Table of contents
What is a content strategy?
A content strategy is a plan to organize your technical documentation. This sounds rather abstract. Let's make the term 'content strategy' more tangible. Undoubtedly, you are in possession of a lot of technical information. You want to do something with this information. You might want to publish working instructions online. Or you might want to opt for a quick start guide on paper. Or you may consider offline presence on a laptop, smartphone or tablet. Which choices would lead to the most effective solution?
With a well thought out content strategy:
you only offer relevant information to the user.

you reach out to your users with different output channels.

you reuse technical information automatically.

you organize your information efficiently.
Offering the right information
Each organization collects a lot of information. Only think of marketing texts, datasheets, CAD drawings, procedures and so on. However, not all of this information is relevant for your manual. A selection needs to be made. After all, a user is only interested in one thing: to start his machine, his installation or his software. As a consequence, only the relevant information should be included. Also as a consequence, a user manual should have a different character from a maintenance manual. Any manual should be geared to its specific task.
Organizing content
If you know where to publish your content, you have to manage your information from that point on. That is where content management software comes in (CMS). Here, your content is stored in order to be reused as many times as you would want.
It is important to realize that, with a CMS, you only have to create your content once. If created, the CMS automatically takes care of your content in any output format you would like, including the so-called responsive design technology for any smartphone and tablet.
Diversified output
Please take 'diversified output' literally when working with us. We do not shy away from any output channel! You could not only think of print, PDF files or websites, but also of:
online and offline presence on smartphones and tablets,
online help in software applications,
instruction videos.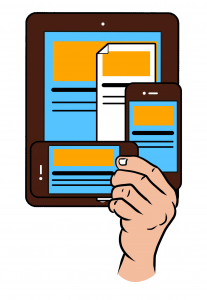 What can we do for you?
Maybe you consider the organization of your technical information subject to improvement. Maybe you would like to bring some structure in your content. We can always help you.